The Windsor Transportation Club is proud to recognize exceptional long standing industry leaders. In establishing a Hall of Fame, we seek to honor the trailblazers, innovators and changemakers of our industry.
2023 Inductee
Steve Ondejko
Steve Ondejko's strong work ethic and entrepreneurial spirit started at a young age, growing up with 7 siblings in the family greenhouse and farming business.
After college, Steve started in trucking, working in various roles including marketing, and operations, eventually president of a large warehousing company.
In 1998, he started Onfreight Logistics with 5 trucks out of the basement of his house. Things have certainly grown since the leap of faith he took, celebrating 25 years of business in January. Onfreight now has 150 employees, 90 trucks, and 5 terminals in the US and Canada.
Along with his wife of 30 years – Kellie, they have created a strong company with family ties. His daughter Brooke and son-in-law Sean currently run US operations out of Tennessee, and son Steven, with the support of his fiancé Angelina, are in charge of maintenance and operations in Canada. Steve has two grandsons, William and Jack that share the love of all thing's trucks.
He has served as President of the WTC, Chairman of the OTA, and currently sits on the board of both the OTA and CTA. He is a strong proponent for the trucking industry and is continually committed to bettering the industry.
Please join me in recognizing Steve Ondejko as tonight WTC Hall of Fame Inductee.
2022 Inductees
Marc Gouin
Mike Donahue
Stan Myers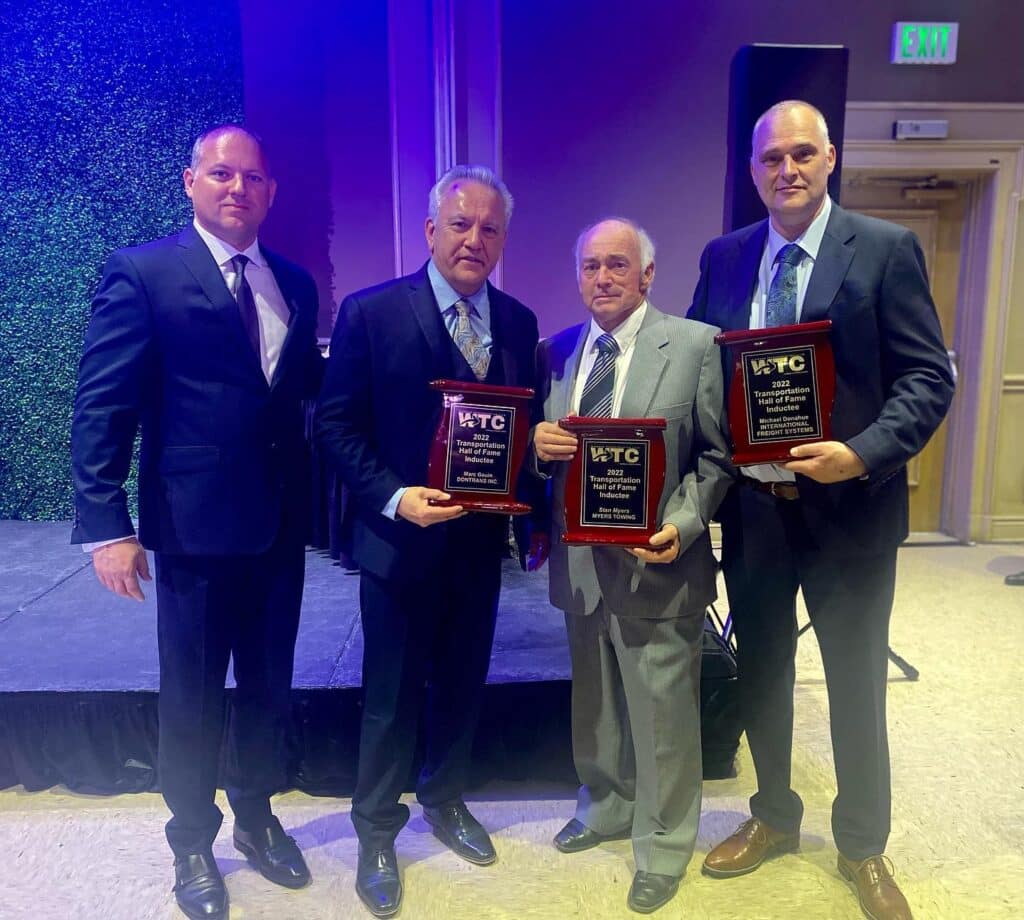 Marc Gouin has been in the transportation industry his whole life, growing up with a truck shop in the family. Marc Gouin spent his teen years helping out in the shop until he was old enough to get his license and drive for his dad's company, Don's Transport Cartage. After working in dispatch, driving, and ultimately running his dad's company as president, Marc decided to move the family business in a different direction and founding Dontrans Inc. in 1987. Over the years, Marc has built up Dontrans, which now operates in all of Ontario, Michigan, Ohio and Indiana. Through dedication and hard work, Marc has persevered through the many hard times and changes in the industry over the years. Marc has also stayed active in the industry with involvement in the WTC, the Detroit Transportation Club and OTA. At the age of 68, Marc maintains his AZ license and is active in the company working alongside family members and colleagues. Please join us in honoring Marc Gouin as a WTC Hall of Fame Inductee.
Stan Myers started his career in the transportation industry before he could even drive. When his father passed away when he was 16, Stan Myers, being the eldest son, started out towing with his mother in the driver's seat to help put food on the table for their large family. Quickly realizing that towing was his passion, Stan went back to school to earn his mechanics license so that he could fix and build his own trucks. In 1974, Stan married his high school sweetheart, Elaine and together they founded Myers Towing. One truck at a time, Stan grew Myers Towing from a one truck operation to a fleet of over 40 vehicles. Over the years, Stan has trained hundreds of drivers and operators, built many of his own tow trucks including the first 80 ton rotator in the area, and persevered through the many challenges of owning a 24/7 business. Despite all of the challenges and many health issues, Stan always has a good story to tell and even at 71 is the guy you want to see when your truck is in trouble. Please join us in honoring Stan Myers, as a 2022 WTC Hall of Fame Inductee.
Mike Donahue started in trucking when he was 18 years old. Working for a few local trucking companies to gain experience, Mike quickly realized that this was the industry for him. After some local driving jobs and some time in Hamilton, Mike joined IFS in 1987 as a driver. Over the years, Mike has held a number of positions within IFS and in 2012 became the president. Despite the challenges of an ever-changing industry, Mike has always enjoyed meeting new people, helping people within the industry and watching it evolve. After decades in the industry and with IFS, Mike is now transitioning into the next chapter, retirement. Please join us in congratulating Mike on his retirement and in honoring him as a WTC Hall of Fame Inductee.