About this Event!
We are thrilled to invite you to an unforgettable evening as we introduce our brand-new flagship event, President's Night, formerly known as Lobsterfest. This night will mark the symbolic passing of the torch from the outgoing President to the incoming President, celebrating continuity and innovation within our organization.
Proceeds from the evenings event will help the next generation of transportation industry leaders by providing scholarships to deserving students pursuing careers in this field and support Fight Like Mason, a foundation dedicated to improving the lives of children battling cancer.
About Fight Like Mason
The Fight Like Mason Foundation is a Registered Charity organization formed by Iain Macri and Chantelle Bacon, parents of Mason Bacon-Macri. Their son, Mason was diagnosed with Rhabdomyosarcoma (a form of childhood cancer) on May 4th, 2015 at the age of two. Mason fought this terrible disease head-on, like a Superhero, because he was a Superhero. On June 27th, 2016, at the age of four, Mason beat cancer. It was not in the way that everyone had hoped, but he beat it.
To improve treatment, care, quality of life and awareness of patients diagnosed with childhood rhabdomyosarcoma and other childhood cancers.
Iain and Chantelle thought they would do Mason no greater honour than to carry on his name, his way of life and legacy in the form of a foundation. They decided to turn their life-shattering tragedy of losing a child into something positive. With their experience and compassion, they pledged to make a difference and give other children a chance to fight just like Mason did.
There are so many families that are shattered, broken and suffering from something that is of no choice of their own. This disease is in no way "rare" to any family going through it. Iain, Chantelle, the Fight Like Mason Board of Directors and volunteers will continue to do their part to honour Mason and provide research funding, medical equipment, support programs and valuable resources to help improve the lives of children and families who are currently fighting just like Mason did. They will continue their work until the villain is defeated for good.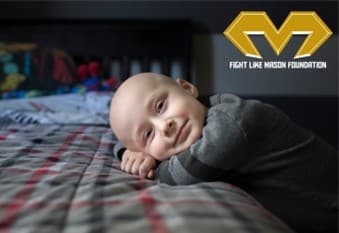 Event Sponsors